You are here
"The Opportunity Project" - Free Toolkit and Examples For Community Digital Projects!
Posted by Jim Craner on February 28, 2019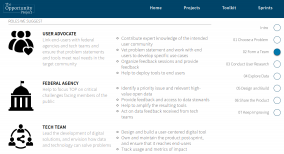 Are you going to build a community digital project, like a new online app or map for your city or region? Make sure to check out the project toolkit from the US Census Bureau's "The Opportunity Project" for some great tips and resources! The toolkit includes helpful explanations of the chief steps of planning, building, and supporting a digital product or service - and since it's provided by the Census Bureau, there are tons of links to data sources from federal, state, and local sources.
Need inspiration for a powerful app to benefit your community? The TOP gallery of past projects has some fantastic examples from previous years, all built with community data obtained freely from the Census Bureau. It's especially timely with the upcoming Census 2020 outreach and "complete count" initiatives around the United States.